It's hard to believe that less than 20 years ago Hyundai - the South Korean up-and-comer in the auto industry -launched what would eventually become a leader in a SUV market: the Santa Fe. It became a sweeping sensation among American buyers for its affordability, durability, comfortability, and year-round dependability.
Now fast forward to present day where Hyundai has entered its 4th-generation of SUV models: presenting the 2019 Santa Fe.
First Impressions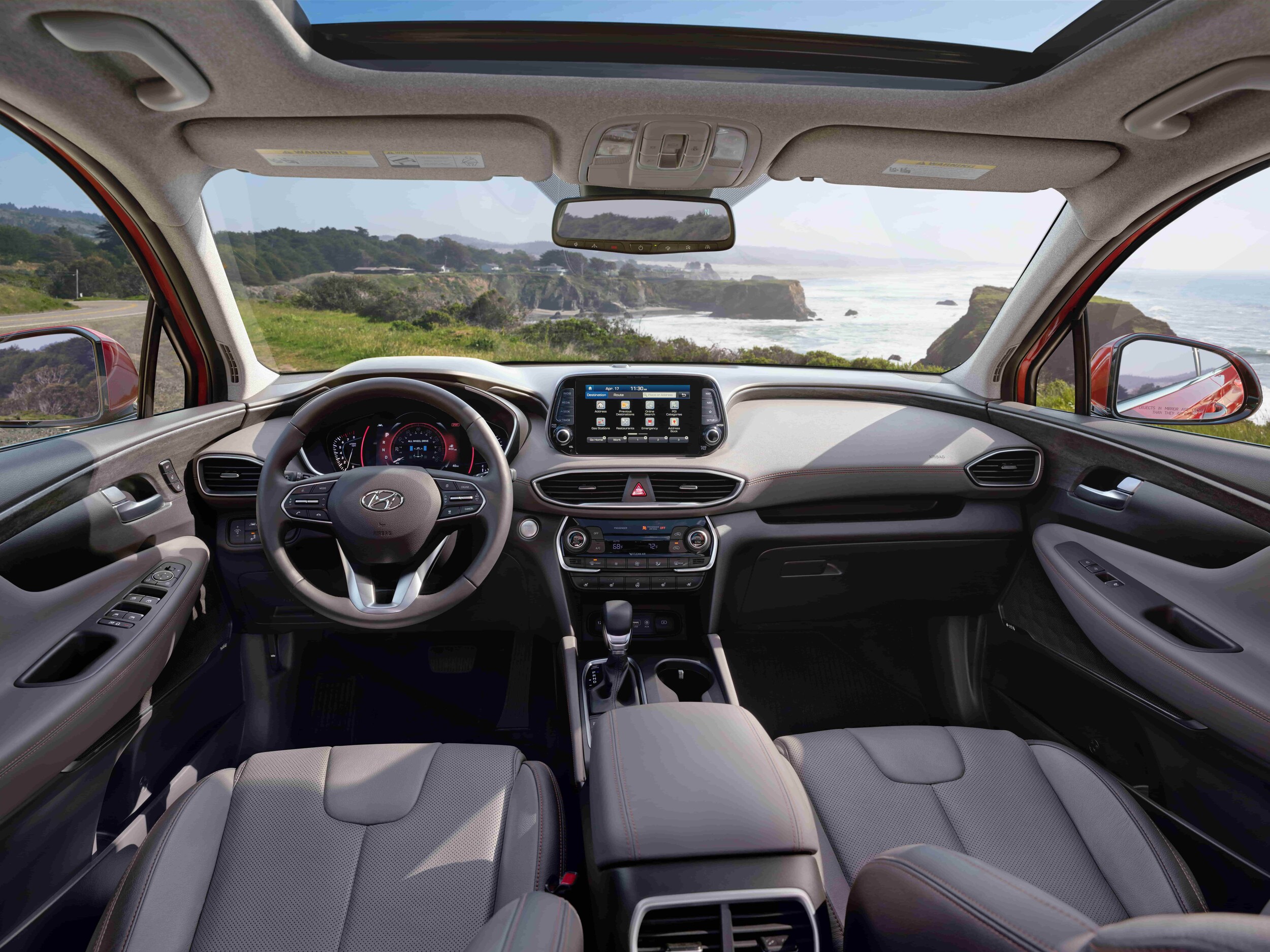 This upgrade translates to a bigger, responsive, more reliable, high-performing, and high-quality state-of-the-art vehicle for all of your driving needs. Bolder and sleeker exterior design, improved technology and safety features, a beautifully furnished interior with leather upholstery, and a square body construction that doesn't sacrifice functionality for design. Trust us, we can't contain ourselves either.
Vehicle Specifications
Trims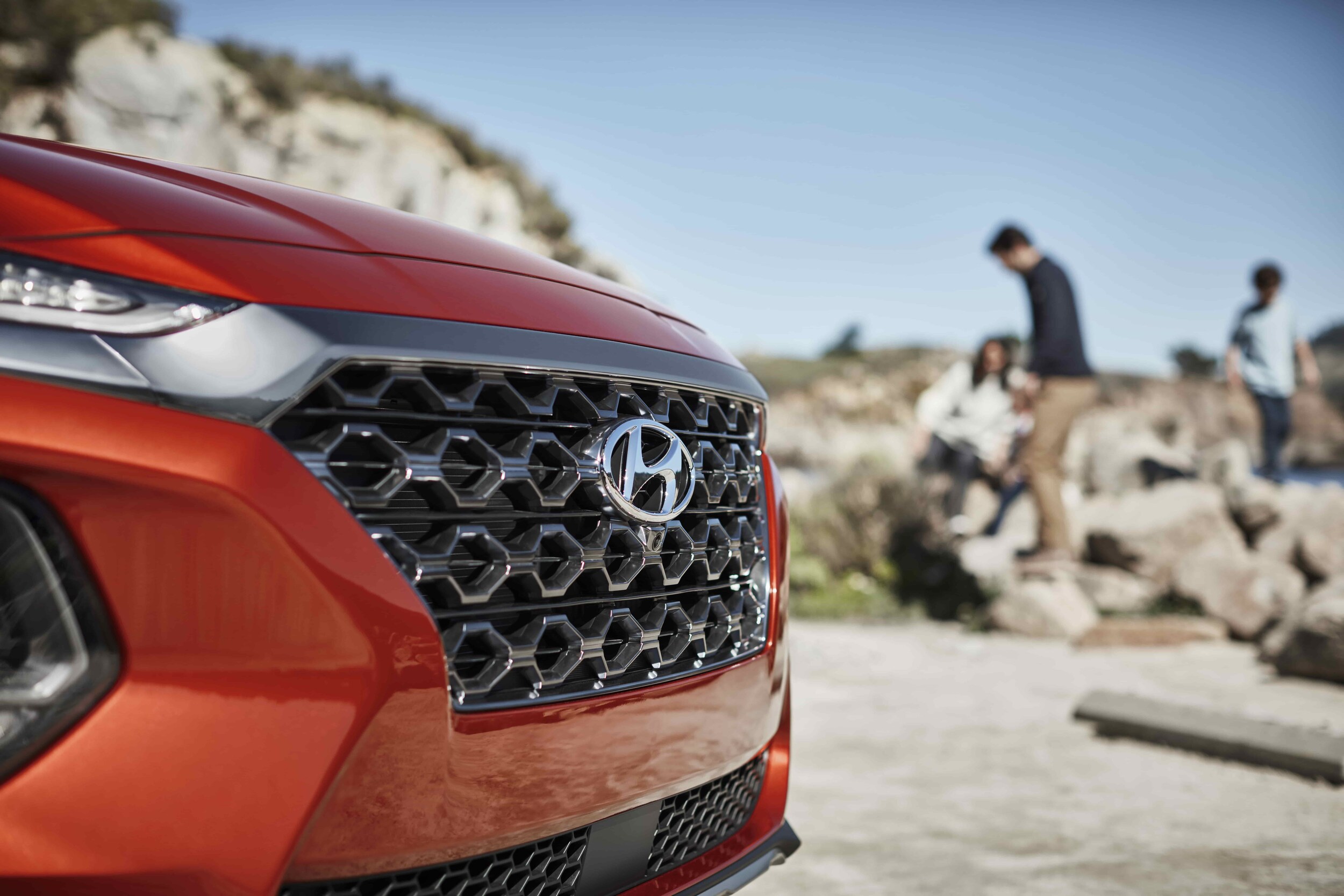 The 2019 Santa Fe comes in 5 different trim levels: SE, SEL, SEL Plus, Limited, and Ultimate.
All 5 trim levels have an 8-speed automatic transmission with a base 2.4-liter inline 4-cylinder engine. The SE and SEL trims are well-equipped with standard components and features. The SEL Plus and Limited trims take it up a notch and come with additional technology and safety features. The Santa Fe Ultimate is the top-tier trim comes with advanced and uniquely luxurious features.
Materials
Advanced High-Level Steel
The body construction of the 2019 Santa Fe is a work of art. Korean automakers are responsible for producing their own steel, which is evident in the high-level steel used in Hyundai cars. It has a 67 percent steel strength, which is exponentially stronger than the 2018 model that only had 14 percent steel strength. While the extra reinforcements have increased the size of the new model, the total body weight is still relatively close to that of its predecessor.
Powertrain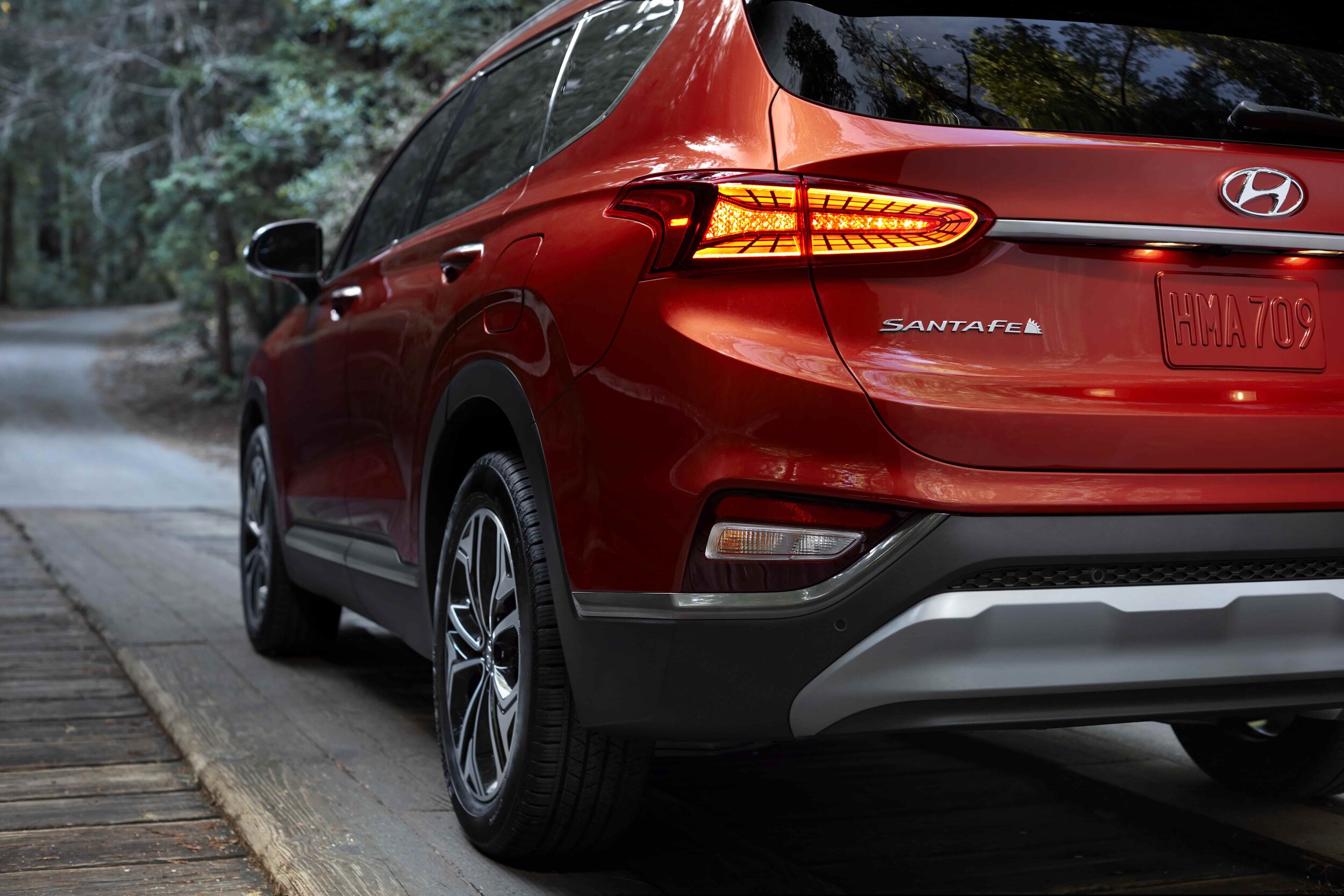 Engine, Horsepower & Torque
The 2019 Santa Fe is available in 1 powertrain for all 5 trims: a 2.4-liter inline 4-cylinder engine with 185horsepower at 6,000 RPM, 178 pounds of torque, and a 2,000 pounds towing capacity.
Transmission
The 2019 SUV crossover comes with an 8-speed automatic transmission as opposed to the 6-speed automatic. The taller top gear and the lower first gear have been improved, providing a smoother shift in transmission while driving. Roller bearings have also replaced ball bearings to reduce friction in the transmission.
Drivetrain
The 2019 Santa Fe features an AWD (all-wheel-drive) system with built-in sensors capable of predicting where and when the vehicle needs extra power. These sensors work by collecting data from the environment in order to accurately adjust the activity of the drivetrain for maximum traction.
Fuel Economy
Gas mileage on the 2019 Santa Fe is an improvement from the previous model, now with a tank capacity of 18.8 gallons.The EPA fuel efficiency ratings for this vehicle is dependent on the engine.
For the base 2.4-liter inline 4-cylinder GDI engine, the fuel economy is competitive across the board:
City - 22mpg
Highway - 29mpg
Combined - 25mpg
Dimensions & Size Compared to the 2018 Santa Fe and Santa Fe Sport models, the 2019 Santa Fe is slightly bigger in both external size and interior space.
The 2019 Santa Fe has more cargo room behind its second-row seats with a rear measuring 35.9 cubic feet. Both the front and back seats have 111 cubic feet of passenger volume, providing an additional inch of passenger leg room. The wheelbase is 6.5 centimeters longer and 1 cm wider compared to the 2018 Santa Fe, which has a wheelbase measuring at0.5 centimeters. The side windows in the new model are also 40 percent bigger for enhanced visibility.
Warranty
The Hyundai 2019 Santa Fe has a standard warranty, which is the same coverage as the 2018 Santa Fe:
Basic warranty: 5 years/60,000miles
Corrosion warranty: 7 years/unlimited distance
Powertrain warranty: 10 years/100,000miles
Roadside assistance coverage: 5 years/unlimited distance
Sleek & Comfortable Interior
Comfortable, Flexible & Supportive Seating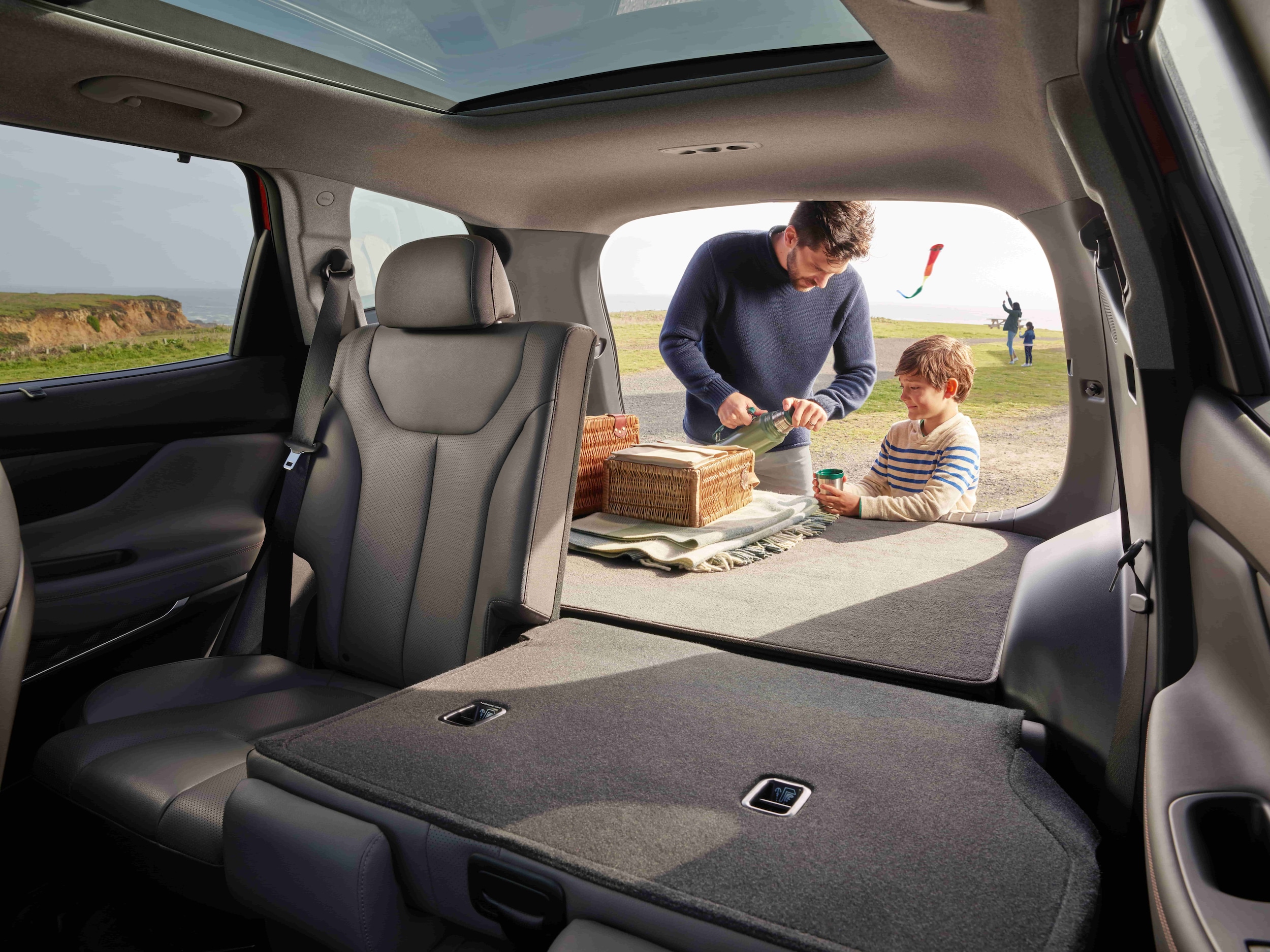 Plush leather seats with ventilated and heated seating? Yes, please. The soft cushioning provides firm support during bumpier rides. The seats also come in varying levels of foam density for maximum comfort.
Impressive Cargo Space & Cubby Storage
From the front and second-row storage to the door pockets, the 2019 Santa Fe is arguably the top contender for providing generous cargo room. A nifty push-button has been installed for folding down the rear seats. The second-row seats can split 60/40, which comes in handy for road trips or large grocery runs.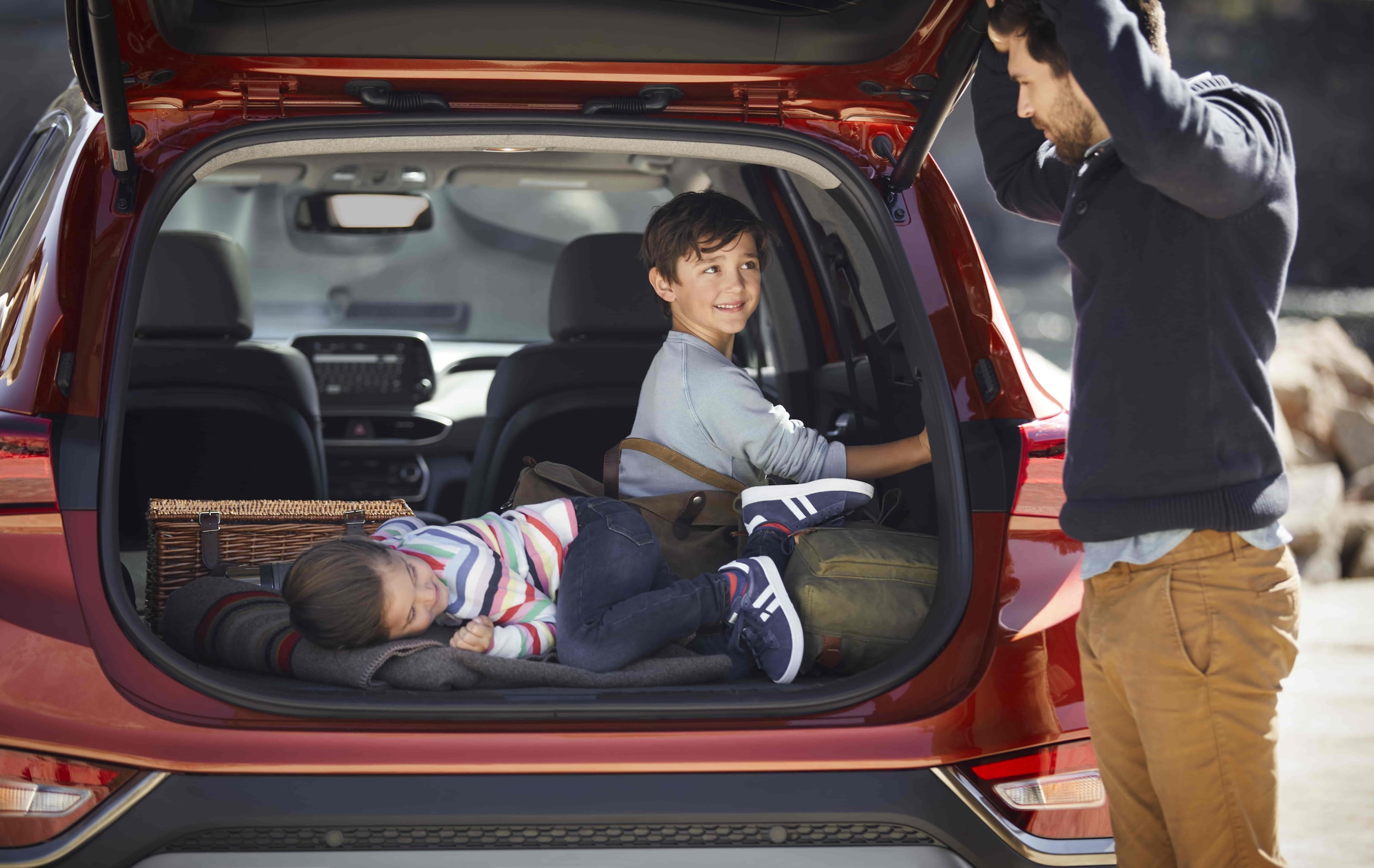 Also, the compact spare tire has been relocated to underneath the vehicle. This decision has opened up space for hidden cubby storage beneath the sliding rear seats. Not only does it free up space, it helps to keep these items out of sight.
Infinity Surround Sound System
The 2019 Santa Fe has a 12-speaker Infinity surround sound system available on the SEL Plus, Limited, and Ultimate trims. The sound system provides premium sounds made available via the Clari-Fi™ Music Restoration Technology. The restoration technology is also capable of restoring the audio quality for clearer and crisper sound.
Sound-Reducing Insulation Pads, Windows & Floors
The 2019 Santa Fe has a well-insulated interior with reinforced insulation pads and floors to reduce sound reverberation and keep the noise at a minimum. The windows and windshield are also made of laminated glass for even greater noise reduction.
Touchscreen Infotainment System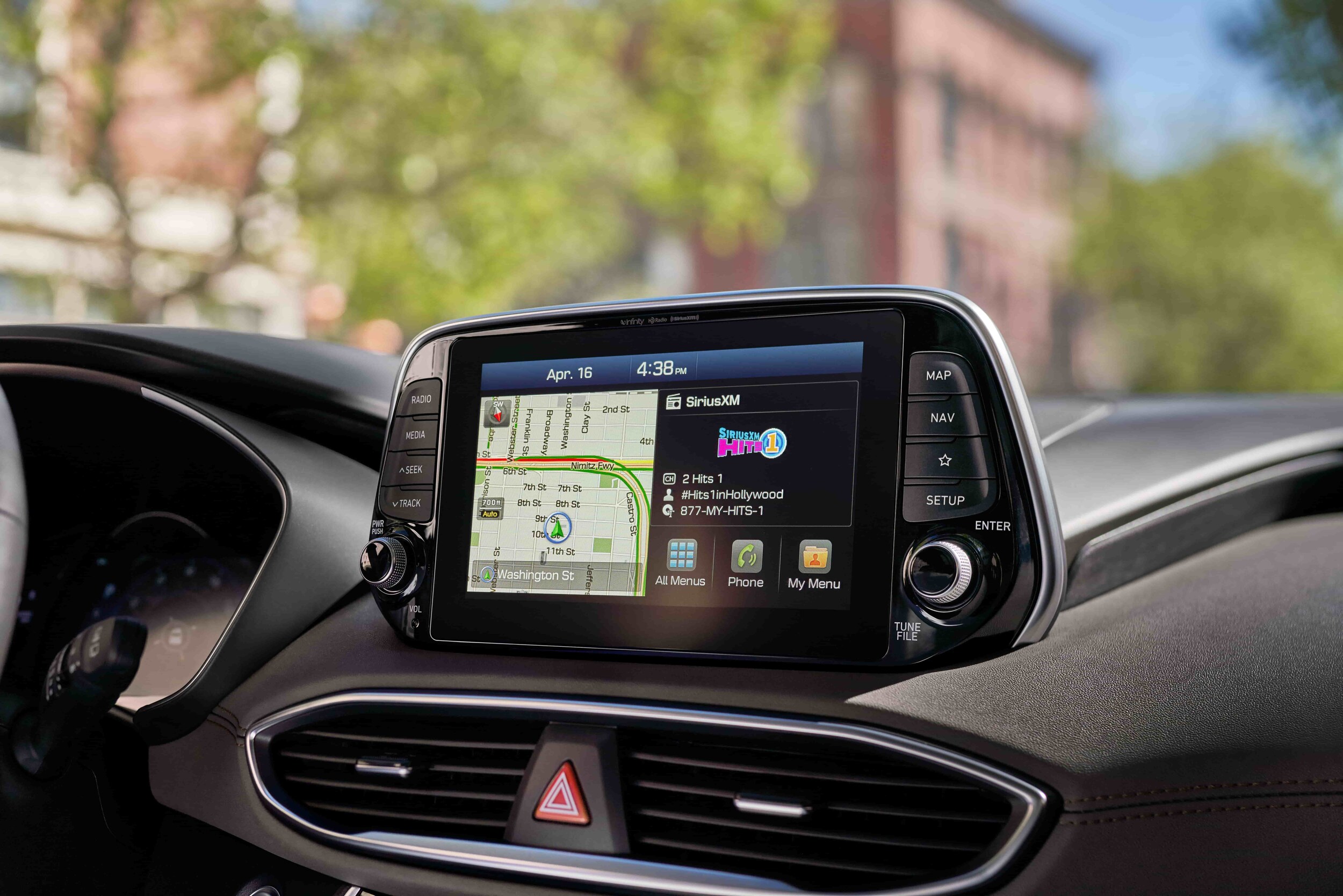 The 2019 crossover is equipped with a 7- or 8-inch infotainment touchscreen system with multiple USB ports, Bluetooth, Apple CarPlay, and Android Auto. Additional technology features include
Blue Link Connected Car Services
, Qi wireless smartphone charging pad, power windows, and more.
Safety Features
Hyundai Smart Sense
All 5 trims of the 2019 Santa Fe come installed with Hyundai Smart Sense, a state-of-the-art driver assistance system with 9 innovative safety features for a convenient and lifesaving driving experience.
These features include: Blind-Spot Collision Warning (BCW), which notifies you both visually and audibly when a vehicle is entering a blind spot; Forward Collision Avoidance Assist (FCA), which automatically brakes when detecting sudden or dangerous braking by the car in front of you or pedestrians on the road; Rear Occupant Alert (ROA), which flashes your lights, honks repeatedly, and immediately sends a text message or email to your smartphone via Blue Link when it detects movement in the back seat after locking and parking your vehicle; and much more.
Want to learn more about the Hyundai Smart Sense?
Contact Beaverton Hyundai
for information about these advanced technology and safety features.
Hyundai Blue Link
2019 Santa Fe owners can rest easy knowing that they receive 3 complimentary years of Hyundai Blue Link Connected Care, a vehicle telematics system unique to Hyundai that was designed with the purpose of bring drivers safety and convenience at the palm of their hands.
Blue Link allows a vehicle connected to the driver's smartphone, where the driver can fully control and manage their vehicle from an easy-to-use mobile app. This includes the ability to stop, start, lock, and unlock their car with at ouch of a button. Blue Link provides comprehensive vehicle information including automatic crash notifications, monthly vehicle health reports, vehicle diagnostic alerts, enhanced roadside assistance as well as in-vehicle service scheduling for car services and preventative care.
Final Verdict
If you are looking to purchase an SUV with high durability, incredible performance, supreme comfort, immense storage space, and state-of-the-art technology and safety features, then the 2019 Hyundai Santa Fe SUV can meet all of your driving needs.
At Beaverton Hyundai, Oregon's #1 Hyundai dealership and winner of DealerRater's 2018 Dealer of the Year Award, we take pride in providing our customers with the best car buying and auto servicing experiences possible. That is why our friendly and knowledgeable staff is there with you in every step of the process to help you answer all of your questions in-person, no appointment necessary.
Call us at (877) 812-0866 to schedule a test drive at your earliest convenience!